Damascus International Airport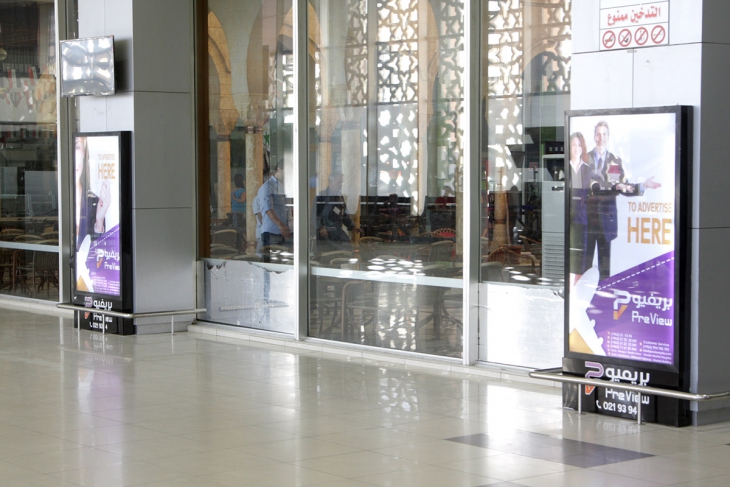 Damascus International Airport is one of the most important destinations targeted by local, regional and international companies and factories.
PreView has the sole and exclusive right to advertise at Damascus International Airport to customers and has only the main management in the province of Aleppo and branch in the province of Damascus under the same name.
PreView company is characterized by intensity and coverage of their ads all the halls through advertising plates fixed various measurements along with smart advertising touch screens and the declaration of a three-dimensional hologram in order to provide the best and the finest types of advertising through the designs boards and screens, elegant PreView high quality in terms of printing and installation of high-resolution screens Which is one of the latest and latest versions according to international standards in proportion to the importance of Damascus International Airport, which is the first and most important front of the Syrian Arab Republic with all countries of the world.
1st Network Ad Details:
Ads Duration

Ads No.

Ads Type

8 Sec

1

-Smart touch screen

-

0

-Three-dimensional Hologram

-

6

-Panel – Measurement

(1.62 * 0.92)

-

2

-Panel – Measurement

(1.20 * 0.80)

-

1

-Panel – Measurement

(1.52 * 1.10)
2nd Network Ad Details:
Ads Duration

Ads No.

Ads Type

8 Seconds

1

-Smart touch screen

-

0

-Three-dimensional Hologram

-

7

-Panel – Measurement

(1.62 * 0.92)

-

1

-Panel – Measurement

(1.20 * 0.80)

-

1

-Panel – Measurement

(1.52 * 1.10)
3rd Network Ad Details:
Ads Duration

Ads No.

Ads Type

8 Seconds

1

-Smart touch screen

-

0

-Three-dimensional Hologram

-

7

-Panel – Measurement

(1.62 * 0.92)

-

1

-Panel – Measurement

(1.20 * 0.80)

-

1

-Panel – Measurement

(1.52 * 1.10)
4th Network Ad Details:
Ads Duration

Ads No.

Ads Type

8 Seconds

1

-Smart touch screen

-

0

-Three-dimensional Hologram

-

7

-Panel – Measurement

(1.62 * 0.92)

-

1

-Panel – Measurement

(1.20 * 0.80)

-

1

-Panel – Measurement

(1.52 * 1.10)
5th Network Ad Details:
Ads Duration

Ads No.

Ads Type

8 Seconds

1

-Smart touch screen

-

0

-Three-dimensional Hologram

-

6

-Panel – Measurement

(1.62 * 0.92)

-

1

-Panel – Measurement

(1.20 * 0.80)

-

2

-Panel – Measurement

(1.52 * 1.10)
6th Network Ad Details:
Ads Duration

Ads No.

Ads Type

-

0

-Smart touch screen

8 Seconds

1

-Three-dimensional Hologram

-

7

-Panel – Measurement

(1.62 * 0.92)

-

1

-Panel – Measurement

(1.20 * 0.80)

-

1

-Panel – Measurement

(1.52 * 1.10)
7th Network Ad Details:
Ads Duration

Ads No.

Ads Type

-

0

-Smart touch screen

8 Seconds

1

-Three-dimensional Hologram

-

5

-Panel – Measurement

(1.62 * 0.92)

-

2

-Panel – Measurement

(1.20 * 0.80)

-

3

-Panel – Measurement

(1.52 * 1.10)
8th Network Ad Details:
Ads Duration

Ads No.

Ads Type

-

0

-Smart touch screen

8 Seconds

1

-Three-dimensional Hologram

-

6

-Panel – Measurement

(1.62 * 0.92)

-

1

-Panel – Measurement

(1.20 * 0.80)

-

2

-Panel – Measurement

(1.52 * 1.10)
9th Network Ad Details:
- Outdoor Advertising Billboard Numbers: 3 signage's – double face (6 faces)
| | | |
| --- | --- | --- |
| Measuring board | No. | Location |
| 6m W * 3m H | 3 Double Faces | Damascus International Airport Facade |
---